At the end of the day, who's your forklift MVP?  It's not likely to be the guy who was the fastest out of the gate in that morning.  It's the one who has learned the importance of taking mini breaks to stretch and ease muscle fatigue.  The shock and vibration that comes from operating a lift truck for any length of time can be very debilitating.  The forklift driver who understands this and takes these small rejuvenating rest periods is probably your most productive employee – your forklift MVP in other words.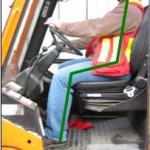 Many articles have been written about the dangers of performing repetitive tasks (see "Ergonomics: The Study of Work" written for OSHA) and how they lead to musculoskeletal disorders (MSDs).  Here today, though, we'd like to present the oft cited five-point forklift driver seating checklist:
1. Make sure your wallet is out of your back pocket.
2. As you sit down, lean forward and shift your hips all of the way back in your seat. This helps to position your spine with the proper 3 curve alignment.
3. Slide your seat forward so that your feet can rest comfortably and so that you the steering wheel is within easy reach and so that you can easily touch the pedals.
4. Adjust your backrest so that it is tilted slightly backward (not vertical). Using the backrest reduces the amount that your core muscles have to work and reduce the stress on the back.  If you have them, adjust your arm rests, your lumbar support and headrest to support your body.
If these simple steps are followed it will go a long way in lessening the impact of shock and vibration caused by extended shifts behind the forklift wheel.  Your driver's comfort and his posture will improve.  No more dreaded MSDs.  No more potential down time caused by drivers off the job on a doctor visit.  Maybe all your operators can be a forklift MVP.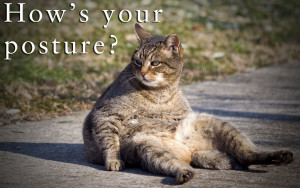 Hyundai Forklift of Southern California services Los Angeles, Orange, and Riverside County.  Our safety and training sessions will go over these steps in greater detail give us a call at 800-660-5241.
Tags:
Fork Lift
,
forklift
,
forklift safety
,
forklift training
,
forklifts
,
hyundai forklift
,
hyundai forklifts
,
hyundaiforkliftsocal.com
,
Lift Truck
,
Los Angeles
,
orange county
,
OSHA
,
Safety
,
safety training