The reach truck forklift is the most widely used of all material handling equipment. In warehouses and distribution centers everywhere you'll see reach trucks performing their tasks in a most productive manner. Whether that newly arrived shipment needs to be moved up on a very high shelf or maneuvered down a narrow aisle, these forklifts can do the job efficiently and effectively.
Each of our reach truck forklifts here at Hyundai Forklift of Southern California are electrically powered and therefore extremely eco-friendly. They are counterbalanced and that allows for greater operator control. The ergonomic design of these Hyundai lift trucks provide exceptional comfort, thus preventing driver fatigue. Each operator can select his or her own individual and most comfortable operating position. The layout of the steering and hydraulic controls are very intuitive, lessening the operator's learning curve.
All of the Hyundai reach trucks are equipped with a self-diagnostic, backlit LCD monitor that offers a clear view of the system's operation. It displays the battery charge level, system faults and operation errors, as well as a hours meter.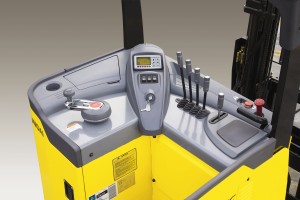 The all important safety factors have not been forgotten in these reach trucks either. A strong over head guard, that meets ECC and ANSI regulations, protects the operator from falls from above. And with Hyundai's wide mast view, drivers are afforded greater visibility and are able to work with greater safety.
Hyundai Forklift of Southern California services the Los Angeles, Orange County, and Riverside area.  We have 15 different reach truck forklift models in our fleet. They vary in size and function. One is sure to fit your material handling needs.
Tags:
ANSI
,
Fork Lift
,
forklift
,
forklift safety
,
forklifts
,
hyundai forklift
,
hyundai forklifts
,
hyundaiforkliftsocal.com
,
Lift Truck
,
Safety