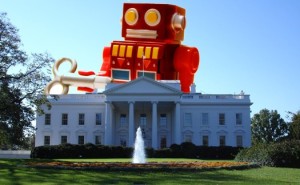 First it was the British in 1776, then in the 1950s it was the Russians we were to fear and now or it soon will be be the Robots.  The cry is being heard across the land  – The robots are coming, the robots are coming.  What are we to do?  Articles are being written, blogs are being posted and television shows are focusing on this new robotic revolution.  Not longer is it the Redcoats or the Reds who are our enemy, but mechanical men.  They're going to conquer us as George III and Nikita Khrushchev never were able to do.
Now or in the immediate future, a robot will be your pharmacist, your lawyer, your sports reporter and even drive you to work.  Any number of companies will be competing to build a better robot.  Kinda like the 1940s and 50s – GM vs. Ford vs. Chrysler.  Sort of in a "my robot can beat up your robot" competition.
They're everywhere in the news these days, robots. Just this past Sunday, 60 Minutes repeated and updated a report by Steve Croft on how much of our economy has recovered from "The Great Recession." but not in the jobs market.  Ever increasingly, routine tasks have been automated.  Humans have been replaced by robots.  Is this good news or bad?  In the short term, jobs will be lost, sure.  However, the innovation required to produce these human "helpers" also require real human input and interaction, that will eventually create more jobs.  We hear the shout – the robots are coming, the robots are coming,  and we should think of it not as a lament, but as a reason to celebrate.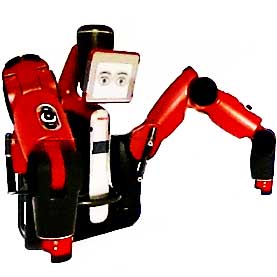 Granted, the assembling of automobiles has for many years been the largest implementor of industrial robots. It is only recently that we in the material handling world have increasingly come to automate our facilities.  The latest technological innovations have allowed us equip our lift trucks, factory floors and warehouses with devices that make for a more efficient operation.
It has been estimated that after-market retrofitting of forklifts with automation kits can increase operator efficiency as much as 50%.  At this point, many material handlers are electing to add these kits to their existing fleet. In the very near future and even now, many of these state-of-the-art innovations are and will be incorporated into the latest forklift models being built.  Should your facility be a narrow aisle one or if you require a high- reach lift truck, these retrofitting kit add ons or the newest of the new forklifts would be perfect for you.
Call us at 800-660-5241 or visit our website.  We'll be able to help you with all of your lift truck needs. We service Los Angeles, Orange, and Riverside County.
Tags:
60 minutes
,
Fork Lift
,
forklift
,
forklift technology
,
forklifts
,
hyundai forklift
,
hyundai forklifts
,
hyundaiforkliftsocal.com
,
Los Angeles
,
orange county
,
robots
,
technology