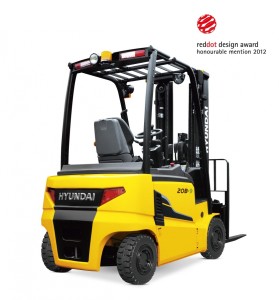 Since 2000, Hyundai Heavy's Industrial Design research department has been continuously improving its forklift product range, enhancing both performance and utility. Ultimately this has resulted in the award-winning design of the new Hyundai 9 Series forklifts, available from autumn 2013.
The Hyundai 9 Series forklift truck is reaping the rewards of the R&D team's innovative work, which has resulted in products that meet the environmental and technical security needs of today's market. Effectively, its large front operator visibility, controlling equipment system and the addition of rear ramps make the machine safer and more efficient.
S.G. Rhee, CEO, Hyundai Heavy Industries Europe said, "The award is a recognition of what our customers in fact already knew; that Hyundai forklifts have the quality and design that make our products enjoyable as well as useful and reliable."
Initially set up to highlight the importance of design within business and society, the first Red Dot competition took place in 1954. Since then the Red Dot Design Award has become one of the world's most prestigious design accolades and is clear proof that companies can distinguish their business activities through design.
The powerful 15BTR-9 is a part of the new 9-series of battery forklift trucks. This newly designed 3 wheel forklift provides every operator with smooth running, increased productivity, and easy maintenance through its self-diagnostic LCD monitor. The ergonomically designed driver's space will make your operating more comfortable than ever before. But this machine isn't just contributing to better business results, it's also friendly to the environment.
Here, then, are a specs overview
| UNITS | MEASUREMENTS |
| --- | --- |
| Engine model | AC |
| Engine output | 4 kW / 6 hp |
| Travel speed loaded | 12.5 km/h |
| Travel speed unloaded | 13 km/h |
| Turning radius (mm) | 1480 |
| Load capacity (kg) | 1500 KG |
| Lifting speed loaded | 290 |
| Lifting speed unloaded | 530 |
| Battery voltage | 24 |


After looking over more detailed information to be found here, contact Hyundai Forklift of Southern California to discuss with us just how easy it would be to add this award winner to your fleet.  Our service area includes the Los Angeles, Orange and Riverside Counties.
Tags:
Fork Lift
,
forklift
,
forklift service
,
forklift technology
,
forklifts
,
hyundai forklift
,
hyundai forklifts
,
hyundaiforkliftsocal.com
,
Lift Truck
,
Los Angeles
,
orange county
,
technology