It has come to our attention that many of you have some misconceptions about OSHA's forklift training requirements.  Here is what OSHA says on this matter.
Every 3 years an evaluation of forklift operators performance must be conducted.  If any unsafe behavior is observed then a those operators must receive a refresher training course.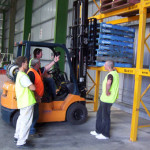 OSHA says that a refresher training course must be provided when:
The operator has been observed to operate the vehicle in an unsafe manner.
The operator has been involved in an accident or near-miss incident.
The operator has received an evaluation that reveals that the operator is not operating the truck safely.
The operator is assigned to drive a different type of truck.
A condition in the workplace changes in a manner that could affect safety operation of the truck.
Most forklift trainers are in agreement that there is a great benefit to a retraining course every 3 years.  However, OSHA does say that if lift truck operators are found to be skillful and their working conditions have not changed, then additional training is not required.
OSHA also stipulates that all forklift training and the evaluation of the trainee's competence, must be conducted by individuals with "knowledge, training and experience" to train forklift operators and who have the ability to evaluate their competence.  No further definition of trainer requirements are stated and OSHA does not feel it has the resources or the need to certify forklift operator training instructors.
In order for these 3 year evaluations to be meaningful, OSHA will do two things.  First, it will observe each forklift operator in their normal day-to-day activities.  This will ensure OSHA that the lift truck drivers are operating in a safe and skillful manner.  Second, the inspector will ask pertinent questions to establish that each operator has the knowledge and experience to drive the forklift safely and competently.
For more information on the forklift training offered by Hyundai Forklift of Southern California click here or call us at 800-660-5241.
Tags:
Fork Lift
,
forklift
,
forklift safety
,
forklifts
,
hyundai forklift
,
hyundai forklifts
,
hyundaiforkliftsocal.com
,
Lift Truck
,
Los Angeles
,
orange county
,
OSHA
,
Safety
,
safety training