There is a new forklift product on the market to improve forklift safety. OSHA requires all operators of forklift equipment to be trained and tested in the protocols of  forklift safety .  But does that make you warehouse safe?
One hazard that training cannot eliminate is blind spots, particularly when pedestrians and forklifts are required to operate in the same areas. Industry figures suggest that over 40 people are injured each week by forklift trucks in the UK and these figures grow during busy peak periods when site pedestrian and driver activity increases.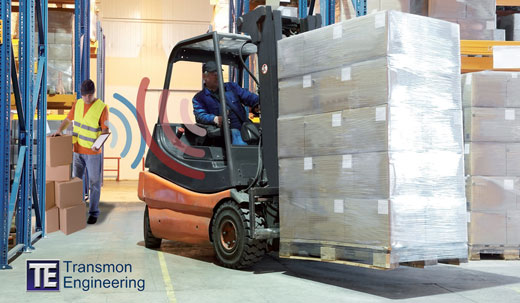 Transmon Engineering's Pedestrian Alert System can be fitted to almost any forklift truck and detects the presence of a pedestrian, via an RFID active tag that should be worn by workers onsite at all times. The RFID active tags pulse a signal several times every second, activating the system when it enters the proximity detecting field (approximately 7 meters from a forklift). A clear warning in the form of a beacon, buzzer or LED alerts the driver and pedestrian that they are close.
"The Pedestrian Alert System is designed to be used in addition to, not instead of, the correct  training " says Paul Sercombe of Transmon Engineering, adding that the Pedestrian Alert System should also not be considered a replacement for operation supervision or responsible driving.
"The responsibility to ensure that the RFID active tag key rings are worn by all pedestrians, at all times, lies with the supervisor or manager" he says.
The Pedestrian Alert System is particularly suited to loading and unloading areas, or for areas with limited visibility at intersections between pedestrians and forklift trucks or the exits from warehouse aisles.  It is also useful when visitors are onsite, such as visiting lorry drivers or during busy times when temporary staff are employed.
The system also offers a forced signal from the key fob to the truck at 25 meters, so that a pedestrian can make a driver aware from a greater distance, when appropriate. The RFID transmitters and receivers are powered by the truck battery supply and the active tags have an integral lithium battery supply which operates for a minimum of two years (depending on pulse time setting), after which they must be replaced under a maintenance schedule.
"The Pedestrian Alert System should enhance everybody's awareness of the potential dangers, and should be considered the last line of defence against accidents, after training, staff accountability and management."
The PAS system can be linked to the Transmon Speed Savure Systems, allowing for a slower truck speed to be automatically applied when the Pedestrian Alert System has been activated.
Transmon has also introduced a similar system that automatically warns pedestrians of a forklift's presence in a specific area.
"Even car manufacturers are incorporating this type of alarm system into new models" adds Paul. "Warning sounds or alarms are incorporated into quieter electric or hybrid cars to alert pedestrians to the vehicles' presence and sensors alert drivers to pedestrians crossing their path in slow moving traffic, for example."
Transmon Engineering supplies a wide range of electronic devices and systems to improve forklift truck fleets by reducing cost, improving safety and increasing energy performance.
sources:  Logistics Hangling
Tags:
pedestrians
,
Safety