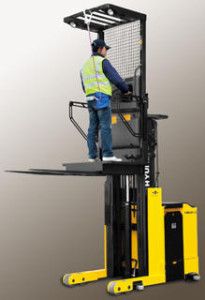 When you think of narrow aisle electric forklifts, you probably only imagine them being used in small warehouses and in narrow aisle situations that their name implies. Just because these lift trucks were originally designed for narrow aisles does not mean that they cannot be used in large warehouses for small jobs and for outdoor jobs as well. Narrow aisle electric forklifts are versatile and can be safely used for any job up to their load capacity.
Narrow aisle electric forklifts are counterbalanced to offer a smooth and safe operation. They have the ability to handle the movement of materials almost soundlessly, and because of a small turning radius, are able to maneuver in the cramped spaces for which they were first intended.
Hyundai Forklift of Southern California offers 5 different narrow aisle electric forklifts that have unique on-board controllers that govern the acceleration speed visa vis its varying platform height. Meaning that the operating speed becomes increasingly restricted as the forklift moves higher so each job can be completed safely without the fear of a tip over.
Many of our forklifts are equipped with self-diagnostic LCD monitors that give the driver a clear view of the system's operation and alerts them to any dangerous condition around them. Each of these lifts were built with operator comfort in mind and the ergonomic design is not only comfortable, but safe as well.
One of our newest lift trucks is the Hyundai 13 BOP-7.  It has an overhead guard that meets EEC and ANSI standards, providing the driver with safety protection when operating in hazardous conditions. This battery operated and counterbalanced forklift has a 52kW horsepower AC motor and has a load capacity of up to 3,000 pounds. Having a small turning radius of 71.6 inches, the 13 BOP-7 order picker is ideal for your narrow aisles and for other lift tasks as well. That, along with Hyundai's 3 year/4000 hour power train warranty, make it a wise choice if you are looking for a very versatile forklift that is capable of performing many of your material handling needs.
Tags:
ANSI
,
Cushion Tire Forklifts
,
Fork Lift
,
forklift
,
forklift safety
,
hyundai forklift
,
hyundai forklifts
,
hyundaiforkliftsocal.com
,
Lift Truck
,
material handling
,
orange county
,
Safety