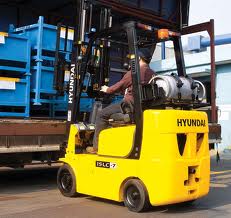 A few weeks ago we talked about some of the reasons to use a propane forklift. It was mentioned, among the advantages were, that a propane forklift maintains 100% of its power throughout its use. Affordability, reliability, safety, and eco-friendliness were also touched upon.
Today, we will expand a bit on what we said then and note some other reasons why a propane forklift is a wise choice for you.
A propane forklift is more affordable. To the already lower cost per gallon of propane (versus gasoline and diesel), is added a recently enacted federal legislation that extends the alternative fuel (propane) tax credit of 50¢ per gallon until the end of 2013. As with gasoline and diesel, propane's cost varies with supply and demand, but is much less expensive than the other two fuels to start with. Propane usually costs about 20% to 30% less than diesel and considerably less than gasoline. Some companies that have converted over to a propane forklift from a gasoline lift have experienced as much as a 55% savings in fuel cost.
A propane forklift is more reliable. A propane powered forklift engine runs far cleaner, meaning that it produces much less of the harmful engine deposits that plague gasoline and diesel forklifts. Thus, a propane forklift is less likely to fail and cause an unplanned work stoppage.
A propane forklift is safer. Because propane burns cleanly and its engine has a very low carbon emission from combustion, a propane forklift is both outdoor and indoor friendly, creating a safe environment for all. Many government and private resources exist to train propane forklift drivers in the safe operation and maintenance of their lift trucks.
A propane forklifts is eco-friendly. These days, it has become even more important that we do all we can to try to preserve our planet. Giving some thought to converting over to a more eco-friendly forklift fuel is one of them. You now know that propane is affordable, reliable, and safe – that it is environmentally friendly as well is a big bonus.
Tags:
eco-friendly forklifts
,
economical forklifts
,
propane
,
propane forklifts
,
reliable forklifts
,
safer forklifts