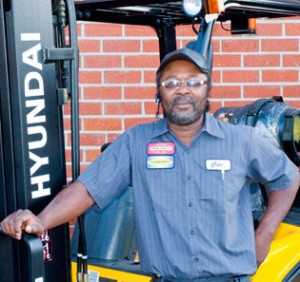 Has your old forklift just stopped running?  Are you afraid that you'll not be able to find the parts to get it up and running again?  Meet Carl Furdge, Parts Department wizard.
For over 25 years that Carl has been with Hyundai Forklift of Southern California, he has made a true science of keeping just the right forklift parts inventory on hand – really he's a true Parts Department wizard.  He provides quotes and estimates on various forklift sales, rentals, parts and repairs.  All of his customers know to call Carl first when their older lift trucks break down.  Somehow he's always able to find that obsolete part that no one else can seem to locate.  When those tires are thin, Carl is also the man to see.  He can provide you with a very competitive quote on either new or used forklift tires.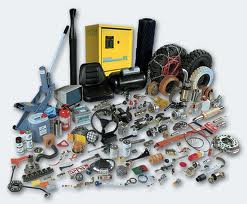 As the Parts Department Manager of Hyundai Forklift of Southern California, Carl lets his customers know just how much they will be spending on parts, shipping and handling and when they can expect to receive their order.  After a customer learns just what he will be paying, Carl likes to follow it up with a phone call.  He'll answer any questions and allay any concerns to help close the deal.  This personal touch is greatly appreciated by all of Carl's customers.
As he looks to the future, Carl feels that a presence on social networks will become increasingly important as the best way to attract new potential customers and to keep in touch with current ones as well.  A savvy suggestion, don't you think?
Barbecuing and watching sports with friends and family are what Carl likes to do on weekends.  He looks forward, too, to Monday Night Football.  Especially if the Dallas Cowboys are playing.  And trying to teach his dog new tricks or any tricks at all for that matter – well that's another thing all together.
Carl can be reached at carl@hyundaiforkliftsocal.com.  Email him with all your forklift parts inquires.
Tags:
cost
,
Cushion Tire Forklifts
,
cushion tires
,
Fork Lift
,
fork lift parts
,
forklift
,
Forklift Maintenance
,
Forklift Parts
,
forklift service
,
hyundai forklift
,
hyundai forklifts
,
hyundaiforkliftsocal.com
,
Lift Truck
,
Los Angeles
,
orange county