Loading dock equipment is critical to the safe operation of you forklifts in and around your loading dock.  Dock plates and dock boards are a couple very important tools you can use to bridge the gap between your dock and the trailer you want to unload.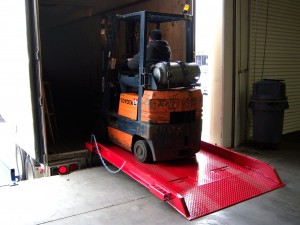 Dock plates and dock boards are simply metal ramps, bridging the gap between dock and truck. Dock plates are generally made out of aluminum, while dock boards are generally made of steel. Aluminum dock plates are suitable for lighter loads, such as handcarts and dollies,whereas steel dock boards are more suitable for heavier motorized equipment such as fork lift trucks and electric pallet trucks. Another difference between dock plates and dock boards, in
addition to their load bearing capabilities, is their construction. Dock plates are simple flat plates, whereas dock boards have curbs, bolted or welded to the edge of the board. Run-off is prevented by simple painted yellow strip along the edge of a dock plate.
Source:  Medlin Equipment
Tags:
attachments
,
dock boards
,
dock equipment
,
dock plates
,
loading dock equipment