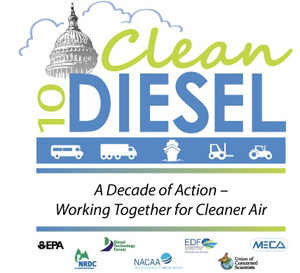 Yes, the EPA recommends changeover to clean diesel as being wise choice that you should consider making.
Sometimes your older diesel powered forklifts might have to be used inside your warehouse and you know how quickly noxious the air can become, or when you are driving down a highway you get stuck behind and older truck and you soon realize that it too is diesel powered and the air inside your car becomes very unpleasant. That no longer has to be. If you choose to keep your older forklift trucks, you can easily convert them to clean diesel forklifts. The EPA has instituted the National Clean Diesel Campaign to help guide you to cleaner running equipment.
Their strategy is fourfold to change you over to clean diesel. First, where possible, they propose to retro-fit both old and new traditional diesel vehicles with a number of different devices using clean diesel technology to better control emissions. Second, their campaign asks that you replace the engines of your older forklifts, that still have a long life, with an engines with cleaner emission standards. Next, if your forklifts have reached the end of their usefulness, then consider a new ones that use clean diesel. Finally, the EPA asks you to create a more efficient operational strategy. A few things you might consider are auxiliary electric heaters for your idle forklifts if you operate in a cold climate. Among the other things you might think about, is a better container management plan that can help in reducing the time that your equipment needs to operate.
So you see, depending on your situation, that by choosing to implement any or all of these clean diesel strategies you'll not only benefit yourself and your employees, but you will be helping create a cleaner and safer environment for everyone.
If you would like to read more of what the EPA has in mind, check out their website at http://www.epa.gov/cleandiesel/technologies.
Tags:
California Air Resources Board
,
CARB
,
clean diesel
,
diesel
,
diesel engine forklift
,
epa
,
forklifts
,
hyundai forklifts