Innovation.  That's what we'd like to talk about right now. Almost before you know it, though, it will also be something we must adopt and adapt in our daily business routine if we are to remain competitive.  It has always been necessary to innovate to remain successful.  From the wheel to Hyperloop, novel solutions have been sought as a means of sustaining that competitive edge.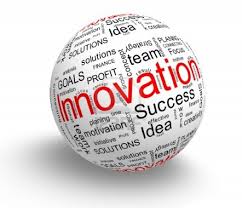 Most of you are becoming increasingly aware that your customers are demanding products be delivered to them any time they want, anywhere they want and anyway they want – and at the price they want.  Increasingly, this will only be possible if you seek out and apply innovative solutions.
As the world becomes even more urban, it's likely there will be fewer privately owned vehicles (hard to believe, don't you think?) and thus greater challenges will be put on the supply chain for consumer goods.
This is the world that Jeff Bezos sees and that he described to Charlie Rose on "60 Minutes" recently. He envisions drones making his deliveries.  Imagine, stepping out of your front door and having that winter scarf, you only ordered 30 minutes ago, being dropped into your eagerly waiting hands from an Amazon Octocopter.  Is that our future?  Farfetched, you think?  Not really, this is the sort of innovation that will be a business necessity very soon.
Even though all the impending implications of this spectacular Amazon innovation must rank higher on your "Wow Factor" scale, let's not forget Google Glass.  While the Octocopter is the "semi-near" future, Google Glass is here and now.  It has both business and every day personal uses.
Any number of YouTube videos have been posted showing Google Glass in operation.  Here, a hospital worker is seen dispensing medications and using Google Glass to follow physicians orders in patient treatment.
Then here, in a warehouse, a worker wearing Google's smart glasses operates a forklift filling orders and later he performs maintenance on the lift truck's battery with instructions he sees through the glasses.
Finally, a guy manages to get through the day, but not without the aid of his smart glasses.  See his struggles here
As evident in the second video, forklifts will still play a significant roll even in this soon to be future world.  The tasks that lift trucks have always performed will just be assisted and simplified by innovations such as Google Glass.  At Amazon, as well, orders still must be filled before the Octocopters can deliver them to your front door.
Hyundai Forklift of Southern California does not at the moment have smart glasses in stock, but you never know.  We do, however, have full line of the latest and most innovative lift trucks for sale or rent.  We service Southern California including Los Angeles, Orange, and Riverside Counties.  See us first for all of your forklift needs.  Call us at 800-660-5241.
Tags:
cost
,
Fork Lift
,
forklift
,
Forklift Maintenance
,
forklift service
,
forklift technology
,
forklifts
,
hyundai forklift
,
hyundai forklifts
,
hyundaiforkliftsocal.com
,
Lift Truck
,
Los Angeles
,
orange county
,
technology