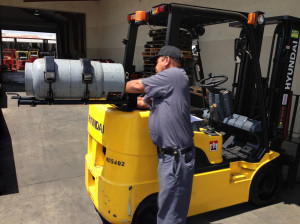 Are you changing your forklift's propane tank properly?  Some of our customers call us and say "I just changed my propane tank, but my forklift won't start.  What's wrong?  It's been our experience, here at Hyundai Forklift of Southern California, that the new tank has not been attached correctly.  There's a leak and the propane gas is not getting to the engine.
Here are a few easy to follow steps to assure you that your new propane tank gets you going right away.
Stop your forklift and turn off the propane tank's valve and allow the engine to run until it dies, thus safely freeing the hose line of any propane going to the engine. Now turn the valve off.
Before proceeding with changing the tank, be sure that you're wearing protective eye glasses and insulated leather or neoprene gloves.
Disconnect the nut and hose from the propane cylinder and loosen or remove the holding straps from the tank. Then take the empty tank off of the back of the forklift.
At this point, it is wise to check that the seals (such as o rings) are seated correctly and not worn.  This maybe why you ran out of gas in the first place. Replace the seals if necessary.
Mount the new full propane tank on the forklift and strap it on securely.
Next, reattach the nut and hose, being careful that they are screwed-on straight.
After the tank has been replaced, use a soapy water solution to check for any leaks.  Any bubbling, of course, would mean that you have a leak.  If the bubbles appear around the nut or valve, then be sure that the nut is seated tightly and that valve itself is not defective. Install new parts, if needed.  If there are bubbles on the hose, then mostly likely it too needs to be replaced.
Should the nut, valve and hose all be in proper order and you are still experiencing a leak, install another new propane tank and go back through the previous steps to check for leaks again.
When you are finally satisfied that the new full propane tank is mounted and in full working order, open the valve to the engine and restart your forklift. You're back in business.
And congratulations, you've successfully replaced your forklift propane tank and you're outta gas no more!
Tags:
changing forklift propane tanks
,
forklift propane tanks
,
how to change propane tanks
,
propane forklifts