The race to provide clean running engines for forklifts is a competitive one.  One supplier is Clean technology engine supplier Power Solutions International, Inc.  Power Solutions announced April 26th, 2013, that they had  successful results with their Tier IV diesel engine replacement program with Hyundai Heavy Industries Co., Ltd. PSI supplies Hyundai with 4.3-liter liquid propane engines for its 7A series 60/70L LPG forklift trucks, supporting production at Hyundai's manufacturing facility in Ulsan, South Korea.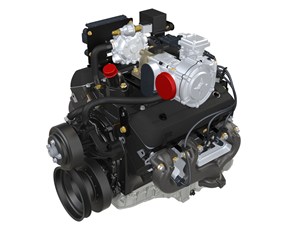 In an article posted by GlobeNewswire.com, PSI Chief Executive Officer Gary Winemaster said, "PSI is delighted to work with Hyundai to power their 7A LPG forklifts".  "The project is helping us build a stronger supply partnership with Hyundai, and also serves as an excellent demonstration of how well our propane industrial engines outperform other options in terms of power and torque."
The PSI 4.3-liter LP engine delivers 118 horsepower and 240 ft-lbs of torque at 2,600 rpm when running on liquid propane fuel. The high-output engine offers end-users greater acceleration, better gradability, and fast travel speeds on tough terrains and slopes. PSI's fuel and emission control system meets all EPA and CARB emission regulations for large spark-ignited (LSI) engines.
Click here to read rest of the article
Tags:
California Air Resources Board
,
CARB
,
diesel
,
diesel engine forklift
,
engine
,
epa
,
Fork Lift
,
forklift
,
hyundai forklift
,
hyundai forklifts
,
Lift Truck
,
lpg forklift
,
orange county
,
Pneumatic Tire Forklift
,
pneumatic tires
,
propane forklifts
,
technology