You've heard the expression "someone needs to bring home the bacon."  We think that Hyundai Forklifts bring home the bacon. It's difficult, though, when that magic word "BACON" is heard, not to think of just sitting down and munching on a slice or two.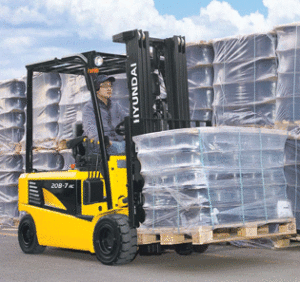 Bacon.  First it was good, then it was bad. So very, very bad. Now it's become good again or so they say.  Years ago everyone ate bacon without giving health concerns a second thought.  Then this well liked pork product become "evil incarnate."
Health worries probably were not the reason, but after 50 years, The Chicago Mercantile Exchange discontinued trading pork belly futures.  Even these arbitrageurs no longer felt safe around this volatile commodity.  So no more bacon and eggs for us either, if we wanted to live past 50.  Who knew?
In the past few years though, there's been a so called bacon renaissance.  Everywhere one looks these days there are bacon advocates extolling its virtues and encouraging its consumption.  Kind of in a "if it tastes good, it's good for you" manner??
There are entire websites devoted to many ways bacon can be used.
No longer is it just fried in the pan.  The Baconbaconbacon site shows pictures of bacon cupcakes, bacon donuts, baconnaise, and bacon bracelets.  It looks somewhat like a joke, but these people are probably serious.
The Bacon Bacon Cafe in San Francisco had nearly 3000 supporters sign a petition in an effort to keep them open when the city health department received complaints of bacon fumes blowin' in the wind.
For years around the back alleys of downtown Los Angeles street vendors surreptitiously peddled their "Tijuana Danger Dogs."  These bacon wrapped hot dogs became so popular that they can now be found at many brick and mortar hot dog stands throughout the city.  One of the first places to serve them openly was Skooby's in Hollywood.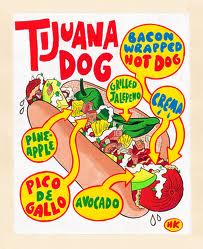 Many fine restaurants, as well, are using bacon not just in their omelets and as side dishes, but in drinks and desserts also.  The Strand House in Manhattan Beach, California garnishes it's Bloody Marys with a house cured bacon strip. And their very popular Warm Apple Brown Sugar Cake is topped with a dollop of maple bacon ice cream.
Bacon is again in favor, but maybe we should, perhaps, recall all those quotes we've read about all things in moderation.
We know it might be hard not to rush out now in search of a danger dog (or maybe you already know where to get one), but certainly Hyundai Forklifts bring home the bacon for you in all the ways other than a hand-to-mouth one.  Visit our website or call 800-660-5241 to set up an appointment.
Tags:
bacon
,
Fork Lift
,
forklift
,
forklifts
,
hyundai forklift
,
hyundai forklifts
,
hyundaiforkliftsocal.com
,
Lift Truck
,
Los Angeles
,
orange county