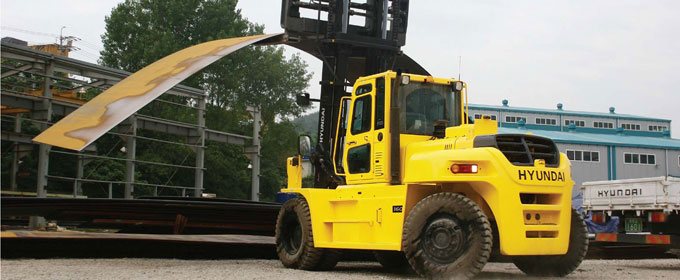 Great Deal!…It is not often that you come across a good deal and even less often you come across a great deal. The Hyundai 160D-7E is a great deal.
Powered by the very popular and always dependable Cummins QBS6.7 diesel engine, the Hyundai 160D provides in excess of 162 horsepower. The superior power that this Cummins engine provides give the Hyundai 160D drawbar pull ratings in excess of 67,500 lbs fully loaded.  It also allows this workhorse to be able to carry loads up grades of more than 27%.
Being a great workhorse and being economically priced are not the whole story.  This muscle machine also comes with a large number of valuable accessories as part of its standard features.  Outfitted with wet disc brakes as standard equipment, this forklift also comes standard with a full cab and a rear view camera, making it one power packed machine.
Hyundai also put a lot of thought into maintainability with an ideal arrangement of component parts that ensures easy access and convenience for maintenance.  Along with large Engine Hoods for easy access to the engine compartment, this forklift comes standard with a cabin tilting system, that makes servicing of all power train components quick and easy. Together this design makes maintenance of your forklift fast and efficient.
The operator comfort and functionality features on this machine are matched by no one.  Hyundai put a lot of thought into the cab. The cab design is based on human engineering, with emphasis on fatigue prevention and increased operator's efficiency.  This cab comes loaded with high output heating and air-conditioning, CD/MP3 player, a password protected start limit switch, and operator friendly gauges and water-resistant monitor panel.
This 35,000 lbs brute of a diesel is loaded.  Available with standard features that most manufacturers would call their premium package, the 160D can be purchased for under $150,000. This places the Hyundai forklift well below the price tag on any other competitors forklift.  Check out the video below to see the brute in action
The 160D-7E also has two big brothers currently available. Contact your Hyudai Forklift of Southern California sales team for details on the 180D-7E and the 250D-7E
Tags:
diesel
,
diesel engine forklift
,
Forklift Maintenance
,
horsepower
,
hyundai forklifts
,
Pneumatic Tire Forklift
,
pneumatic tires