Most of us agree that the economy is looking better than even just a year ago. However, don't let the upturn be a downer.  By that we mean, don't forget that as your business improves your forklift safety training program should not be ignored, but that it should be re-emphasized so that workplace accidents will decrease instead of being on the increase.  How's Your Forklift Safety Training Program?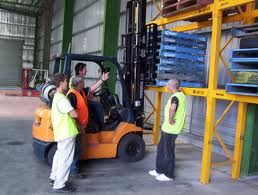 We know that history repeats itself even in the material handling world.  It's clear, based on past evidence, that forklift accidents, unfortunately, do increase with an improving economy.  That is, unless companies invest in a more comprehensive safety and training strategy.
Why do accidents escalate as things get better?  Because companies are oft-times reluctant to hire new employees as workloads take an upturn and that puts a greater demands on current workers.  With more expected of them than in the recent past and having to work longer hours, lift truck operators are prone to forget the safety training they knew so well.  Sooner or later a mistake will be made – an accident will happen.  Managers and supervisors should not forget that they too play a big part in maintaining their company's safety standards.
What can be done right now?  In a few words – SAFETY and TRAINING.  They go hand-in-hand.  Even though forklift accidents have decreased in recent years, there's no room for complacency.  Lift truck mishaps in factories and warehouses still are among the leading cause of industrial injuries and fatalities.  For it to work successfully for all, for business owners, for supervisors and for workers, workplace safety must be a top>down program.  Business owners should have in place a comprehensive plan that covers their day-to-day operations AND which also spells out specifically what to do in case of an emergency.  Managers and supervisors must be responsible in seeing to it that this plan is properly implemented.  Finally, forklift operators must be aware of these safety procedures, for ultimately only they, themselves, can actually prevent a forklift accident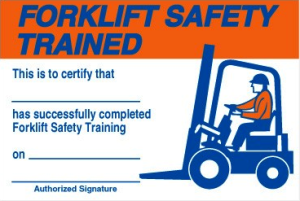 While we do have our own overall safety program in place here, we would be apprehensive in advising a specific plan for you – not knowing your exact situation.  What we do feel comfortable is doing, is recommending our Forklift Operator Safety Training Program.
Hyundai Forklift of Southern California offers a complete Forklift Operator Safety Training Program that complies with OSHA regulation 29 CFR 1910.178. Our course covers the safe operation of all types of lift trucks including electric forklifts, narrow aisle reach trucks , order pickers, and cushion and pneumatic LPG forklifts.  We service Southern California in Los Angeles, Orange and Riverside Counties.  Call us at 800-660-5241 to set up a training session or refresher course for your forklift drivers.
Tags:
Fork Lift
,
forklift
,
forklift safety
,
forklift training
,
forklifts
,
hyundai forklift
,
hyundai forklifts
,
hyundaiforkliftsocal.com
,
Lift Truck
,
Los Angeles
,
orange county
,
Safety
,
safety training