Elsewhere we've seen OSHA described as having three faces, a good one, a bad one, and an ugly one, thus answering our question of How is OSHA like the Spaghetti Western, "The Good, the Bad, and the Ugly."  By revealing that both OSHA and the Movie have three faces.  And as in that movie, starring Clint Eastwood, the face you see on OSHA might not always be the good one, but one of the other two sometimes.  You'd be right in identifying it, though, as OSHA, no matter which face your eyes perceive – unfortunately.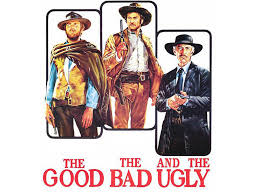 OSHA, The Good: Their written standards are even handed, fair minded, and thoughtful. Because of their efforts, the opportunity to develop solutions to long standing health and safety problems have been found. Most likely, the answers to these issues would not have come about if were not for OSHA.  A 3D forklift safety trainer and lockout/tagout hardware for potentially dangerous machines are just some of those innovations.  A full-body harness lift truck seat belt and warning signs, posters, labels used on factory floors alerting workers of approaching forklifts are, for instance, also among the other products that were created because of regulations promoted by OSHA.
Those working in high risk constructions jobs, members of immigrant populations and small business employees have been the receivers of OSHA's largess.  These monetary grants have helped to provide educational opportunities that many certainly could not have otherwise afforded.

OSHA, The Bad: Trying to fully comprehend all that OSHA is responsible for is almost too overwhelming.  When Congress enacted and President Nixon signed the Occupational Safety and Health Act of 1970, its mission was to assist employers and employees in reducing on the job injuries, illnesses and deaths.  A pretty ambitious proposal, don't you think?  Standards had to be established and training programs had to be initiated for both employers and
employees.  Then work places had to be inspected and those newly written laws had to be enforced.
Over the years, however, it has become necessary to re write and re think most of what was laid down in the early years.  This has proven to be a very slow process and many of those regulations are now hopelessly outdated.
OSHA, The Ugly: An on the job death is tragic enough, but one occurring just after an OSHA inspection has found a site to be in full compliance is truly ugly.  Many such on the job fatalities could have been prevented.  Hopefully, in the future, they will be. That will require inspectors to be better trained, that business owners and OSHA cooperate when the inspections are being conducted, and that employees not be afraid to report health and safety violations they observe at work.
Was this bit of 1970s legislation the right thing to do?  Most assuredly.  OSHA performs most of it's duties pretty well.  We're better off with it than without it.  Remember in "Any Which Way You Can" that OSHA is a good thing. And in "A Perfect World" if you avoid the bad and the ugly you could become a "Million Dollar Baby."
Thanks OSHA.  Thanks Clint.  And you too, Sergio.
Tags:
Fork Lift
,
forklift
,
forklift safety
,
forklift technology
,
forklift training
,
forklifts
,
hyundai forklift
,
hyundai forklifts
,
hyundaiforkliftsocal.com
,
Lift Truck
,
Los Angeles
,
orange county
,
OSHA
,
Safety
,
safety training