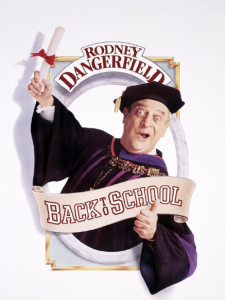 At this time of year, whether you read the news in print or on line, you can't help but notice that back to school promotions are everywhere.  If you are in our industry, you're aware of the fact that forklifts play a vital role in back to school promotions.  In retail stores and in warehouses, alike, those school uniforms, backpacks, and school supplies are being made ready for sale or shipment by the very equipment we sell, rent or maintain.
Someone once said, there are three good reasons to be a teacher – June, July and August –  August is now almost over, so it's now time to get serious about back to school shopping. Maybe you've put it off all summer, but fortunately most retailers and on line vendors, too, still have bargains you can take advantage of.  And fortunately, too, this guy is not your kid.
Before you set out to get your kids set up for the coming semester, a careful check of print and on line media, will reveal there are bargains to be had everywhere.  We've seen some nice cell phones for 1¢ with a two year contract.  School uniforms for as little as $4 are a real steal.  Many merchants and on line sellers are asking as little as $40 for wifi-dorm friendly printers and are even charging much less for the ink, if you can believe that.  Hey, ever wonder why they don't ask a little more for the printer and a little less for the ink?
As you set out to do your back to school shopping, you'll need a strategy. Certainly it's a good idea to remember those sales you've read about on line or in the newspaper. Most importantly set a budget and pay cash when possible.  If you do, however, end up paying with a credit card, choose the one with the lowest interest rate.  Hopefully, the same card will have a points reward system tied to it for future deals.  Try to avoid "at the cash register offers" for store credit cards that most likely have a much higher interest rate than general purpose credit cards.  And don't even think about those so called "payday" loans, which may have as much as a 400% interest rate tied to them.
Now that you've now got the kids outfitted and backpack ready for the new school year, it's time for you to get properly equipped for the Christmas season.  It'll be here before you know it.  Chances are your business can use a new and improved forklift model.  And chances are, no, the fact is, Hyundai Forklift of Southern California has just the right one for you.
Tags:
back to school shopping
,
Fork Lift
,
forklift
,
Forklift Maintenance
,
forklift service
,
forklifts
,
hyundai forklift
,
hyundai forklifts
,
hyundaiforkliftsocal.com
,
Los Angeles
,
orange county