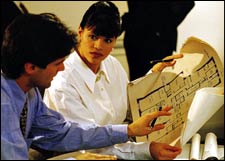 After the recent natural disaster of the tornado that destroyed Moore, Oklahoma, forklifts were put to use loading emergency supplies on trucks headed to devastated area.  Because of this quick and effective response by these charitable organizations (some from as far away as the Mid-Atlantic states), a bad situation did not become worse. Do you have a plan in place to help others should you be asked to pitch in to supply aid in a crisis.  And what if a tornado or earthquake struck your business?  Do you have an emergency strategy to cope with the devastation until outside help arrives?  Are you and your lifts trucks prepared?
It is not only extremely important that your operators' forklift safety training is current in the use of the lift truck itself, but they must also must be ready should the forces of nature hit your own place of business.  If you do not have an overall emergency disaster plan in place, today is the best time to start to implement one.  The  Occupational Safety and Health Administration (OSHA) website at http://www.osha.gov/SLTC/emergencypreparedness/index.html will help you get going with your plan.
Among other things, OSHA's Fact Sheet stresses the importance of forklift safety training to better prepare your operators to react effectively to natural disasters such as the Oklahoma tornado and, just a few months ago, Hurricane Sandy.  With your own plan in place your business will be able to react in a coordinated manner helping others and having them help you.
Although it has been almost 20 years since the Northridge Earthquake struck the Los Angeles area, but don't be complacent.  Make sure that your operators' forklift safety training is up to date and that you have a plan in place to implement should your forklifts be needed when the next quake occurs.
Tags:
forklift
,
forklift Los Angeles
,
forklift safety
,
forklift safety training
,
forklifts
,
hyundai forklifts
,
OSHA