You might be wondering the same thing.  Forklifts and baseball – what do they have in common?  Not a lot, you might think. Though, here at Hyundai Forklift of Southern California, when we're not thinking about the business our minds turn to baseball – especially at this time of year.  Sure, we like to check the results of last night's games and see how our favorite teams are doing in the standings.  Fans in Los Angeles and Orange County have been particularly fortunate the past two years.  The hottest young players to recently emerge, play for local teams.  Last year it was Mike Trout of the Angels and the Dodgers have been revitalized this season by Yasiel Puig.
While the day to day activities of our particular favorites and the long history of the game have huge followings both in the USA and abroad, quite a few fans look elsewhere when they think of baseball.  The Baseball Reliquary is truly a baseball fan's hall of fame. That is not to say that the National Baseball Hall of Fame in Cooperstown, N.Y., is not loved and appreciated, but the Reliquary fills a void with a measure of a ballplayer that goes beyond mere statistics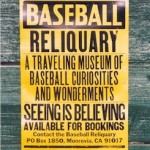 Being a sort of museum without walls, it has temporary displays in public libraries throughout Southern California and annually inducts three baseball personalities into its Shrine of the Eternals.  Founded in 1999 by Terry and Mary Cannon, the Baseball Reliquary focuses on the human side of the game we love.  It captures an idea about worth and fame and its connection to American arts and culture.
This years the Shrine of the Eternals inducted Manny Mota (pinch hitter deluxe and long time Dodger coach), Lefty O'Doul (one of the best hitters in baseball history and minor league manager extrodinaire), and Eddie Feigner (an almost unhittable softball pitcher). The ceremony was held at the Pasadena Public Library on Sunday July 21st.  These three men join 42 other men and women elected by member/baseball fans since the first ceremony in 1999.  Other inductees include both the well known and the almost invisible.  Casey Stengel and Yogi Berra have achieved everlasting fame because of their highly publicized baseball careers.  Whereas Pete Grey (a one armed outfielder of the 1940's) and Steve Dalkowski (a pitcher who could reportedly hurl a baseball in excess of 110 miles per hour) never became famous, but have plaques hanging along side those of Stengel and Berra.
Is there a forklift hall of fame?  Not that we know of.  Although, sometime in each of our lives we have all wished for that type of recognition, it has most likely not to be.  Most of us probably will never receive an Oscar or Nobel Prize.  In that the Baseball Reliquary has, indeed, honored such individuals, we get to live out our fantasies through them.  Anything is possible!
You can see the Reliquary's current display through August 31, 2013 "Another Trip In Baseball's Time Machine: Photography At The Field Of Dreams," at the Pasadena Central Library located at 285 E. Walnut Street, Pasadena, CA 91101.
Tags:
baseball
,
baseball reliqaury
,
Fork Lift
,
forklift
,
forklifts
,
hyundai forklift
,
hyundai forklifts
,
hyundaiforkliftsocal.com
,
Los Angeles
,
national baseball hall of fame
,
orange county
,
southern california