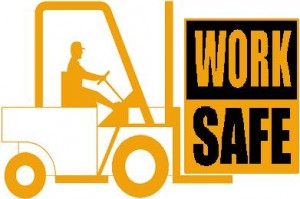 Forklifts do present many different operating hazards, but if your forklift drivers receive proper forklift training and you emphasize the importance of forklift safety, it will help you minimize accidents in your workplace. It has been estimated that in the United States that there are almost 100 fatalities and almost 100,000 injuries as a result of forklift accidents.
We've all been shopping at one of those "big box" stores and have seen employees there moving material around while customers walk by. This is probably the most unsafe atmosphere in which forklifts are used – both the forklift driver and the customer are potential accident victims. Another mishap that sometimes occur is when a forklift operator inadvertently drives his lift off of a loading dock. And similarly, a forklift driver, unaware of his location, strikes a fellow employee. Both of these situations might have been avoided if proper training and safety measure had been in place.
Forklift training and safety go hand in hand. New forklift drivers are required by OSHA to be trained and evaluated by a competent and certified forklift instructor. Even experienced operators should take a refresher course every 3 years, or should one of your drivers be involved in an accident or to have been observed using unsafe practices, they too, should be sent back to school.
Forklift operators, through training and with an excellent safety record, are asset to your company. Keeping your lift drivers trained and emphasizing safety in the workplace is the employer's responsibility, but it not only benefits you and employees, but in some cases the customers who might be shopping in your store.
We, here at Hyundai Forklift of Southern California, offer a complete program of forklift training that complies with the Occupational Safety and Health Administration (OSHA) standards. Our training and safety course can be taken either here at our location or at your place of business. We offer classes in both English and Spanish. It is not only our business to furnish with forklifts, but to train your new drivers and to keep your current forklift drivers up to date on the latest in operational training and safety procedures.
Tags:
accidents
,
forklift driver training and safety
,
forklift safety
,
forklift training
,
OSHA
,
training in Spanish and Ebglish