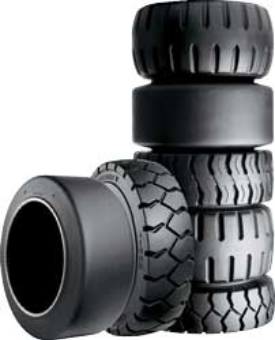 Forklifts are often categorized by the type of tires they use. Both the pneumatic tire forklift and the cushion tire forklift have sub categories as well. The choices are "pneumerous."
Generally speaking, if you going to be operating your forklifts in an indoor environment and outdoors on smooth paved surfaces, then cushion tire lifts will fill the bill. If, however, you plan to mostly use your forklifts outdoors on unpaved surfaces or on rough terrain, then pneumatic tire forklifts are the answer.
If your situation allows you to use cushion tire forklifts, you'll be able to take advantage of their smaller turning radius and greater maneuverability in narrow aisle storage areas. Because they are made of a hard rubber compound, they will not puncture and there will be no down time while a new tire is mounted. Cushion tire lifts are made in many load capacities ranging up to 15,000 pounds – satisfying most indoor needs. One of the sub-categories within the cushion tire group is a high traction cushion tire that is sometimes mounted on the front of forklifts. They enable the lift to be more usable for occasional operation on rough surfaces. Finally, cushion tires do cost less than the pneumatics, so you will be saving money if you are able to use them for your tasks.
You would think that pneumatic tires would be just like the those on your own car wouldn't you? But, as we previously mentioned, there are sub-categories within each type of tire. Yes, there are those just like the four on your car – air filled. However, for a smoother ride, some operators choose to fill their tires with foam. Another sub-category is the 100% rubber pneumatic forklift tires. They are particularly ideal for operating in places where a lot of sharp metal objects are lying around. Forklifts used in lumber yards and junk yards should be equipped with these solid rubber pneumatics. If you're looking for a high load capacity outdoor forklift, it will be one with pneumatic tires that can lift as much as 200,000 pounds.
When it comes to choosing which type of forklift tire to use, there are quite a number of factors to take into consideration before making your selection.
Tags:
Cushion Tire Forklifts
,
forklift tires
,
Pneumatic Tire Forklift