How often your forklifts are serviced can depend on whether they are gasoline, propane, or electric powered. Are they used indoor or outdoors or both? Are they required to navigate rough terrain or are they used only on flat warehouse surfaces? These are among the many questions you have to ask yourself when planning your forklift service schedule.. We at Hyundai Forklift of Southern California can help you customize a preventative maintenance program that suits your needs.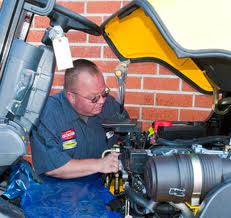 Our experienced technicians will ask the questions such as the ones mentioned above and also will inquire about how many hours a day your forklifts are operated and ask about the load capacities that they are expected to lift on a regular basis. This will help our service technicians better determine the parts of your forklifts that might need special service attention.
Preventative Maintenance Service Plans with us can save you money in the long run. Our technicians will be able detect "accidents about to happen".  Things such as a worn drive belt will be seen and replaced immediately and not when it actually breaks and causes damage to other parts of your forklift, and thus creating a longer down time for your lift truck. Our service plans are more economical, less expensive that a service call, and we will have you up and running again in about one hour
Most newer forklifts have a manufacturer's service schedule on the lift itself and in the owner's manual. However, if your forklift is an older model, here's where we can help you determine your special service needs.
Because OSHA requires that all forklifts be inspected daily and after each shift if they are in use around the clock, HyundaiForkliftSoCal can assist you in keeping an up to date maintenance and service record that OSHA also requires of every company operating forklifts.
So you see, a regularly scheduled service of your forklifts is a very important habit to get into. Keeping your equipment serviced will not only benefit you and your business, but will comply with OSHA standards.
Tags:
forklift service
,
OSHA
,
preventative maintenance