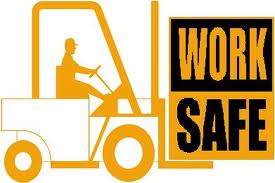 The mere word rodeo conjures up images of cowboys riding bulls, roping calves, and chuck wagons racing at break neck speeds – hardly safe endeavors.  On the other hand, forklift rodeos promote safety as lift truck operators compete in displaying their skills at negotiating challenging courses. All this while racing against the clock for the best time, but avoiding penalties for any unsafe maneuvers.
Rules of the game are quite stringent and judges will penalize drivers who do not follow them.  A failure to wear a seat belt can cost you here as well as on the Interstate.  Cones on the course are considered to be solid objects and must remain erect.  Pallet placement is among the other things to which "refs" hold lift truck operators to exacting standards – only a two inch margin is allowed before incurring a penalty.  If that were not enough drivers also have to pass a written test as well.  Kind of like we all have to do to in order to keep our own automobile licenses current.
These annual events are being sponsored by individual companies and by local and State governing bodies.  The competition tests the lift truck operators abilities in handling various types of forklifts including narrow aisle forklifts, order pickers and pallet jacks.  Winners in the preliminary rounds advance on to the finals where prizes have been known to be quite lucrative.  One winner was even awarded and all expense paid vacation to a destination of his choice.
Many companies such as DOT Foods of Mt. Sterling, Il. who just held its 8th annual intra-company forklift rodeo,  has from the start focused on safety over speed.  Their two-day event was a huge success and has over the years fostered company morale and forged many lasting relationships.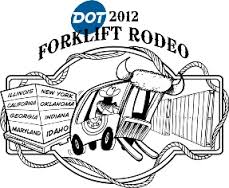 Many States, as well, hold their own "Forklift Olympics."  The State of Washington and the State of Ohio have for over twenty years encouraged forklift safety through these extremely competitive events.  The Ohio contest that began locally, has grown tremendously since its inception and now bills itself as the U.S. Open Forklift Rodeo.
Should you be interested in setting up your own forklift rodeo, the State of Washington offers you guidelines here.  If, however, you just need to rejuvenate your forklift fleet click here.  Hyundai Forklift of Southern California services the Los Angeles, Orange and Riverside Counties and offers the longest warranty in the industry.
Tags:
Fork Lift
,
forklift
,
forklift safety
,
forklifts
,
hyundai forklift
,
hyundai forklifts
,
hyundaiforkliftsocal.com
,
Lift Truck
,
Los Angeles
,
orange county
,
Safety
,
safety training