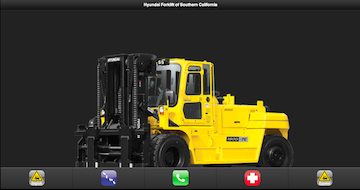 Hyundai Forklift of Southern California has made available to all its customers a new free forklift fleet monitoring system.  It was first shown to attendees of the Southern California Facilities Expo on May 15th.  The paperless and cloud based monitoring application was received with much enthusiasm by all who had the opportunity to witness a demonstration of its capabilities.
The Fleet Monitoring System (FMS) is a tool that will simplify your daily forklift inspections and will not only keep this daily record and email you a report of the results, but will also store a history of all your forklift inspections on a cloud for anytime and anywhere access.
Our FMS app is now available in Spanish and English for iPhones, iPads, Android phones, laptop and desktop computers (both PC and Mac) and is great way to help you organize the mandatory checkups you must make every day that your forklifts are in use.
We hope you had a chance to see it at the Expo last week, but if not,  we would be more than happy to give you a personal demonstration of just how beneficial it can be you and your forklift inspections.
Contact us today at 800-660-5241 to see what all the excitement is about.
Tags:
forklift
,
forklift inspection
,
new free app