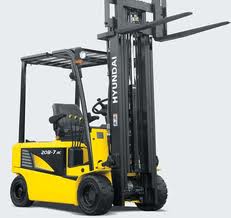 It's commonly thought that electric forklifts are only usable for indoor situations.  That's true if you live in a cold and rainy climate. If, however, your operation is in a warm weather location where it seldom rains, then electric forklifts may be a viable option for both indoor and outdoor use.
Electric forklifts do offer a number of unique advantages over internal combustion engine (ICE) forklifts.  They have zero emissions.  There's no tail pipe and no cloud of smoke to poison the air in your warehouse. Electric forklifts run the quietest of all lift trucks thus producing a much less noisy and worker friendly atmosphere and most forklift drivers find them easier to operate.  In addition, electric forklifts have a lower center of gravity due the weight and position of the battery that allows them to be ideally stable and maneuverable in high lift and narrow aisle situations.
The fact that you use electric forklifts eliminates the need to provide a large extra space for fuel tank storage on site that's required when using ICE type forklifts.  Without these fuel tanks stored on your premises, your insurance liability cost will decrease significantly.
True, there are some disadvantage to electric forklifts and you'll have to weigh the pros and cons.  You initial cash outlay is greater for electric forklifts than for comparable internal combustion engine forklifts.  That's because of the need for standby batteries and a charging station.  In some areas of the country even the supplied electrical power may not be adequate to charge your forklift batteries and you'll have to spend additional money to have it upgraded before you consider buying or leasing electric forklifts.
With all that has been said and weighing all your options both the pros and cons, maybe an electric forklift is the wisest choice for you
Tags:
electric forklifts