If you know when to replace your forklift's tires, you'll have it over most.  They say knowledge is king and when you use that knowledge to keep your lift trucks up and running you will be highly thought of.  Not as a king, perhaps, but highly thought of.  Good enough, don't you think.
A lot rides on your forklift's tires – really and virtually.  Many of you don't know or might not realize that lift trucks don't have suspension.  So the "a lot rides on" phrase is quite appropriate here.  The knowledge of just when to replace your forklift's tires is extremely important.  There can be long term detrimental ramifications to not knowing when to replace worn forklift tires, so if you don't know what to look for, we'd like to talk about some of the warning signs.
Cushion tire forklifts warning signs
First let's consider cushion tires, they're used mostly on indoor forklifts.  These tires are made of solid rubber.  They wear slowly, but can be gouged and otherwise damaged quite easily.
Simple wear  Most cushion forklift tires have a 50% wear line indicator visible on each tire.  When the top of the tires reaches that line, it's time replace the tire.
Chunking and Tears  Sometimes debris on the warehouse floor can gouge large chunks from or cause tears in the rubber of the lift truck's tires.  If this happens, replacing the damaged tire is in order.
Flat Spots  At times, a misaligned tire and excessive acceleration can combine to create a flat spot on a tire.  A very dangerous situation that could lead to a forklift tip over.  Replace the tire immediately.
Pneumatic tire forklifts warning signs
Next, pneumatic tires are generally used on outdoor forklifts and there are slightly different warning signs to look for.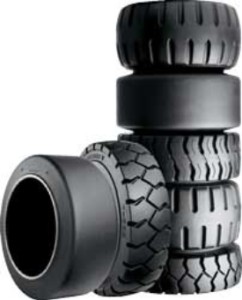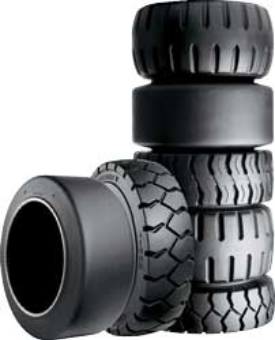 Inflation  As with automobiles, but even more important with forklifts, properly inflated tires are of the utmost importance.  Under inflation can compromise the lift truck's stability, increase tire wear and reduce fuel efficiency.  On the other hand, Over inflation will greatly reduce stopping ability.  Check your forklift's tire air pressure frequently.
Sidewall Cuts  Can cause a loss of tire pressure and result is load shifts and possible damage to man, machine and material.
General Wear  Over worn and less resilient tires can cause an uneven ride, particularly on harder surfaces and thus lessening the driver's ability to control his lift truck.
Obviously, we cannot emphasize enough how important it is to be vigilant about checking your forklift's tires – significant safety hazards will most certainly result should you be lax.  Do you know when to replace your forklift's tires?  If you are still unsure, give us a call at 800-660-5241.  We'll evaluate them for you.  We service a wide area in Southern California including Los Angeles, Orange and Riverside Counties.
Tags:
Cushion Tire Forklifts
,
cushion tires
,
Fork Lift
,
fork lift parts
,
forklift
,
Forklift Maintenance
,
Forklift Parts
,
forklift safety
,
forklift service
,
forklifts
,
hyundai forklift
,
hyundai forklifts
,
hyundaiforkliftsocal.com
,
Lift Truck
,
Los Angeles
,
orange county
,
Pneumatic Tire Forklift
,
pneumatic tires
,
Safety