In last week's post, "Choosing the right forklift tires," we discussed three types of forklift tires – pneumatic, solid rubber and polyurethane.  Not to put too fine a point on it, though, most of us think of forklift tires in just two main categories.  The air or foam filled tires we categorize as pneumatic tires.  All solid rubber and polyurethane tires we put in the cushion tire category.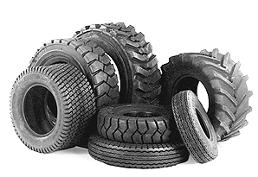 Your forklift is an extremely valuable piece of equipment.  Keeping it up and running efficiently is crucial to your business.  Do you know when to replace your forklift tires?  This is as equally important as keeping up the rest of your preventative maintenance programs.  Think of today's post as choosing the right forklift tires – part 2 – do you know when to replace your forklift tires?
Worn forklift tires can cause your vehicle to be unstable and potentially loose and damage its load.  Running a lift truck on tires that should have been replaced will cause a great deal of vibration and contribute to extreme driver fatigue.  Both of these situations can be avoided if you keep an eye on tire wear and know when to replace them.
Pneumatic tires – the check points
Check tread wear.  Once the tread is gone, it's time to replace them.  Tires  wear at different rates, but look for smooth centers and lug or tread showing on the outside of the tire.
Check for cuts.  Cuts in your tires can result in a sudden air loss causing load shifts and possible driver injury –   employee injury is one of the more serious problems your business can face.
Check tire pressure.  Make sure your tires are not under or over inflated. Uneven tire wear and difficulty in stopping are just two of problems you might encounter with improper tire pressure.  Most pneumatic tires have a pressure settings guide on the side of the tire making it ease for you to keeping them at the correct air pressure at all times.
Cushion tires – the check points
Check for simple wear.  Cushion forklift tires have a 50% wear lines built-in.  When the top of the tire reaches that line it's time to go tire shopping.
Check for cracks, chunks or tears.  Debris on warehouse floors can cause cracks in your tires, gouge out pieces of rubber or tear them.  All of which can lead to a load imbalance.  Strong consideration should be given to seeking out replacement tires soon as possible.
Check for flat spots.  If your lift truck tires are misaligned they tend to spin when seeking surface traction, thus creating flat spots and uneven wear.  Again, the load will not be carried with stability.  New tires are in order.
If you are concerned about the condition of your forklift tires Hyundai Forklift of Southern California can check them out for you.  If you think they need replacing, we have the specialists here to do the job for you.  It's not as easy a job as you might think.  If you've not seen it before you might want to take a look at our video about forklift tire changing.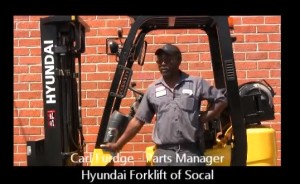 Workplace safety is paramount, so seeing to it that all of your forklift's tires are in good condition is a big part in helping you to maintain your good safety record.
Tags:
Cushion Tire Forklifts
,
cushion tires
,
Fork Lift
,
fork lift parts
,
forklift
,
Forklift Parts
,
forklift safety
,
forklift service
,
forklifts
,
hyundai forklift
,
hyundai forklifts
,
hyundaiforkliftsocal.com
,
Lift Truck
,
Los Angeles
,
orange county
,
Pneumatic Tire Forklift
,
pneumatic tires
,
Safety