How do you dispose of your old forklift batteries when the times comes to replace them?  Do you dispose of your forklift batteries the right way?  We hope you don't just put them in the trash or take them to a land fill.  We would like to think that you dispose of your old forklift batteries in an eco-friendly manner – and that means you recycle them.
For the past 40 years, we all know that the recycling movement has been a big success in the United States, but that does not mean that there's not room for improvement.  The effort to reclaim personal and industrial wastes has gone a long way in improving our environment.  What you might not know is that recycling of lead acid batteries is the most successful of all salvage campaigns.  98% of all battery lead is recycled as opposed to just 55% of aluminum cans, 45% of newspapers and a mere 26% of glass bottles and tires.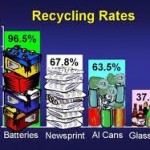 Unfortunately, though, not all recyclers are created equal. So it's important that you find and choose a responsible waste recycler. For more information about battery recycling a good place to turn is the Battery Council International's website.  The BCI is a non-profit trade association that brings together battery manufacturers, recyclers, retailers and marketers to promote environmental and safety standards in the battery industry.  It has developed a model recycling plan for U.S. state and federal legislation that has been widely adopted.
The life cycle of typical lead acid battery parts can be endless.  Chances are that the forklift batteries that you're using today contain as much as 80% recycled lead and plastic material.  When these batteries need replacing, and you recycle them, they will be reincarnated to live usefully again and not poison our ecosystem had you disposed of them improperly.
We here at Hyundai Forklift of Southern California fully support the responsible battery recycling guidelines that have been set by OSHA and the EPA.  Should have any further questions or concerns, please contact us at 1-800-660-5241.
Tags:
Fork Lift
,
forklift
,
forklift safety
,
forklifts
,
hyundai forklift
,
hyundai forklifts
,
hyundaiforkliftsocal.com
,
orange county
,
OSHA