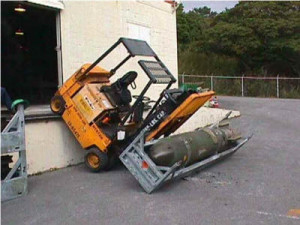 Every year, in the United States, there are over 100 deaths and 100,000 accidents involving forklifts.  We ask, do forklift accident statistics shock you?  If not, they should.  Theses statistics shock us and we've been in this business for many years.
It's frightening that in the United States that one person is killed in a forklift accident every three days.  The greatest number of those deaths occur when a forklift driver attempts to jump from an over turning lift truck.  What should drivers do when their forklift starts to turn over?  It's a scary situation, but we instruct all our trainees to stay on the forklift, lean in the opposite direct of the tipping, keep the seat belt fastened and hold on to the steering wheel.  This offers them the best chance of survival.  Do not jump from the forklift.  That will increase the likelihood of the driver being struct by the forklift itself and thus resulting in a serious injury or death.  In fact, 42% of all forklift fatalities happen when an operator leaps from an over turing lift truck.
Concern for pedestrians should also be of top priority when implementing a workplace safety program.  Many of the reported forklift workplace incidents involve non-drivers – so called pedestrians.  Having their feet run over by careless forklift drivers account for 20% of these injuries and 16% occur when pedestrians are struck and crushed by operator recklessness.  Do forklift accident statistic shock you?  Now?  We hope so!  What can be done?
A few things that forklift operators can do to increase workplace safety are:
Practice driving safely.
Never allow riders on your lift truck.
Only handle loads within your lift's capacity.
Always stay under the overhead guard.
Always wear a seat belt.
Be aware of pedestrians walking in or near your work area.
Pedestrians also have responsibilities to insure for their own safety around material handling equipment.  They should: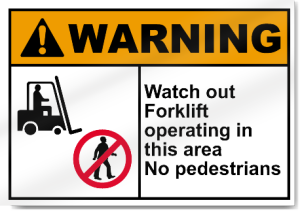 Be aware of marked forklift routes.
Look and listen for forklift waring lights and alarms.
Be cognizant that a forklift may suddenly appear around a blind corner.
Business owners play, perhaps, the most important part in seeing to it that safety in the workplace is a prime concern.   It's all well and good to talk about forklift safety and training, but management should have a specific safety strategy in place tailored to their unique working environment.  And in addition, that plan should be implemented and be an integral component of their overall business operation.
If you all act together to minimize unfortunate incidents at work, the answer to our question: Do forklift accident statistics shock you? – will be NO.  And that's because you've done your part in lowering these mishaps where you work.
Should you be in the Los Angeles, Orange or Riverside county area of California, we here at Hyundai Forklift of Southern California can offer you a complete forklift operator safety training program that complies with OSHA regulation 29 CFR 1910.178. For more information call us at 800-660-5241.
Tags:
Fork Lift
,
forklift
,
forklift safety
,
forklift training
,
forklifts
,
hyundai forklift
,
hyundai forklifts
,
hyundaiforkliftsocal.com
,
Lift Truck
,
Los Angeles
,
material handling
,
orange county
,
OSHA
,
Safety
,
safety training