If you're renting or buying a lift truck for the first time, choosing the right forklift tires is an essential part of the selection process.  While you might not know it, having the right tires on your forklift is as important as knowing the maximum load you'll be asking it to lift and knowing just how high you'll be expecting the forklift to lift that load.
There are three main types of forklift tires – pneumatic, solid rubber and polyurethane.  Here's a very brief explanation of each.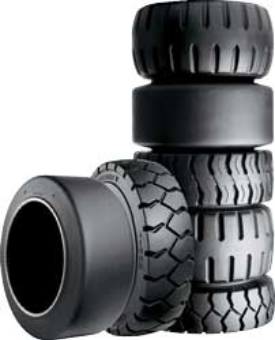 Pneumatic tires: Should your forklift needs be for one operating outdoors on rough terrain the pneumatic tire would be the one you'd want on your lift truck.  They are made from strong, thick rubber and have a deep tread. These tires are air filled and help the forklift last longer by providing that air cushion between the forklift and the ground.
Solid rubber tires:  The solid rubber tire looks similar to the pneumatic tire though they're not filled with air, but are made of solid rubber. They are long lasting and will never become deflated like the pneumatic tire.  They do not, however, extend the life of your forklift because they offer no air cushion between the vehicle and the ground.  These tires are somewhat versatile, in that they can be used indoors and outdoors – though not in outdoor situations too extensively.
Polyurethane tires:  These are simple press-on tires that are easy to install and most commonly used on electric forklifts.  They are not be able to withstand an outdoor rough terrain like the other tires and are suitable for indoor use only.
Choosing the wrong tire can add an increase in operating costs and create safety risks.  If you choose the right tire you will realize a substantial savings and improve safety in your workplace.  It has been estimated that a forklift tire, properly chosen, will last as much as 40% longer.
"Where the rubber meets the road" was a 1960's advertising slogan used by the Firestone Tire Company to promote its products.  Over the years, it has come to mean even more.  That is, it is important to make the right choices.  Remember this, when choosing the right forklift tires.
Hyundai Forklift of Southern California is ready to assist you in making those right choices.  We're here to help at 800-661-5241.
Tags:
Cushion Tire Forklifts
,
cushion tires
,
Fork Lift
,
forklift
,
forklift safety
,
forklifts
,
hyundai forklift
,
hyundai forklifts
,
hyundaiforkliftsocal.com
,
Lift Truck
,
Los Angeles
,
orange county
,
Safety
,
tires