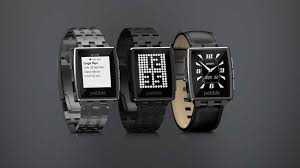 At the Consumer Electronic Show (CES) last week in Las Vegas, bendable TVs, smart watches, 3D printers, and mini-drones really wowed the attendees.  Can a forklift show be as exciting as CES?  We think so.  You'll have a chance to see for yourself if you register to attend ModeX 2014.  Calling itself "The Greatest Supply Chain Show on Earth," this March 17 through 20 in Atlanta, GA you can see for your self equally impressive new products that will be on display there.
Although, you would not call ModeX 2014 strictly a forklift show there will be lift trucks or two on display among other exhibitors on the floor.  This is the largest trade show of manufacturing, distribution and supply chain solutions offering learning opportunities and information by showcasing the products and services of over 800 leading providers.
We'd like to give you the scoop on some inside info, but no one leaked a thing to us as yet.  Based on new products first shown at the previous ModeX in 2012, though, this year will no doubt have a few big reveals as well.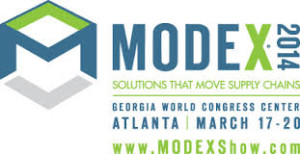 Two years ago at ModeX, a number of larger equipment manufacturers such as the Yale Materials Handling, the Hyster Co, and the Nacco Grp unveiled forklift models new to North America.  Not to be out done, smaller lift truck makers had innovative models to kick tires on as well.  Among them were, Big Joe Forklifts showcasing its product range of electric pallet trucks and walkie stackers.  Combilift Ltd showed its line of four-way forklifts for inside or outside applications and on semi-rough terrain in all weather condition.  And Presto Lifts offered the high-performance industrial-duty DXL Series compact scissor lifts featuring a smaller footprint than standard lifts, but providing a full 2,000 lbs of lift capacity.
Forklift after market add-ons were a big deal at the 2012 show as well and are sure to be seen this year in Atlanta, too.  At the first ModeX The Raymond Corp. proudly demonstrated its x iWarehouse fleet optimization system for data gathering and reporting that can help create a more cost-effective and efficient operation.  Seegrid Corp's Guided-by-Seegrid allows the company and the manufacturers to jointly engineer and transform standard industrial trucks into robotic industrial trucks.
Other on board computers and tablets were also displayed by Intermec Inc that are designed to integrate with any forklift and they say that these are the first vehicle-mount computers certified to offer proven productivity, accuracy, safety.
A company located just a few miles from us here in Southern California, Hannibal Industries Inc of Vernon, California displayed its patent-pending TubeRack System with a dual-movement frame. The design allows flexibility both front-to-back and side-to-side, giving it the ability to withstand impacts and seismic events more safely.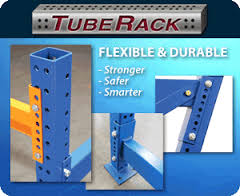 What is they say about past performance?  We certainly feel that in the case of ModeX this year the old adage will not apply.  There will be, as in the past, outstanding new products for your consideration and maybe even a few "wowers."  Can a forklift show be as exciting as CES?  Yes, we do think so!
Tags:
Fork Lift
,
forklift
,
Forklift Parts
,
forklift safety
,
forklift technology
,
forklifts
,
hyundai forklift
,
hyundai forklifts
,
hyundaiforkliftsocal.com
,
Los Angeles
,
material handling
,
orange county
,
technology