The State of California charges ahead.  It has been phasing in, over the past few years, a number of regulations governing how both large and small batteries are to be charged.  The one that will impact those of us in material handling went into effect January 1, 2014.
The new law says that any large battery charger (such as those used to charge industrial lift trucks) which draws peak power of 2kW or moreand was manufactured on or after July 13, 2013 shall meet the performance values in the table below: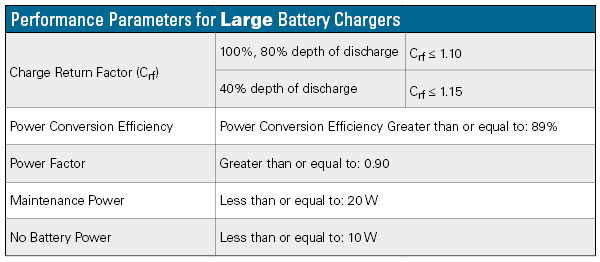 Many of you are aware that the U.S. Department of Energy has battery charging regulations on its agenda as well.  Those who had knowledge of the DOE's proposals felt that those laws were not going to be as stringent as those passed here in California.  So it's no surprise that the DOE is asking for further input before setting their nationwide rules in stone.
The regulations here in the Golden State require a comprehensive measurement of charger efficiency during entire recharging process. They also specify that the batteries must be charged as efficiently as possible so that energy is not wasted at any time during the charging procedure.
The California Energy Commission's (CEC) now insists that charger manufacturers rate their battery charger's efficiency over its complete operating range – when charging and when idle.  These new chargers must not only be efficient at full power during their bulk charging mode, but must also be just as efficient at lower power levels during their finishing and equalizing charging modes.
Fortunately, for us here at Hyundai Forklift of Southern California, our principal battery charger supplier, Industrial PowerSource, is far head of the curve.  Their PowerHouse chargers meet and exceed CEC efficiency standards.

Hopefully then, maybe all other battery designers will follow their lead (some already have) and focus on the total amount of energy consumed when converting AC into DC and in so doing will develop chargers that will minimize energy consumption and not waste a precious power source, that in the past, was unnecessarily dissipated in inefficient charging cycles.
California charges ahead with eco-friendly battery chargers.  Will other States soon follow?
Tags:
Fork Lift
,
fork lift parts
,
forklift
,
Forklift Parts
,
forklifts
,
hyundai forklift
,
hyundai forklifts
,
hyundaiforkliftsocal.com
,
Lift Truck
,
Los Angeles
,
material handling
,
orange county