The short answer is yes, you can convert your electric battery forklifts to hydrogen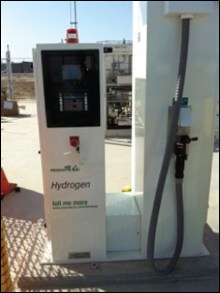 fuel cells forklifts quite easily.  In the ever changing world of forklift technology, many in the material handling business today are, in fact, now converting over their electric battery powered lift trucks to a cleaner hydrogen fuel cell power source.
Fuel cell technology is not new, but only recently has the cost of using hydrogen as a power source for vehicles such as forklifts outweighed the cost of producing it initially.  While hydrogen is the most plentiful element on earth, it does not exist on its own, but in compound with other elements and must be extracted to be used as a fuel. Over the years, less expensive methods of isolating hydrogen have been developed, until today it's feasible to use it as a power source economically.
Recently, the Defense Logistics Agency (part of the U.S. Government) and the Center For Transportation and the Environment (a non profit organization) completed its first year of using hydrogen powered forklifts at a government defense depot in Tracy, California.  The emerging technology  companies, partnered here, proved that hydrogen fuel cell forklifts are, indeed, commercially viable.
Forklifts running on hydrogen power can have their fuel cell batteries changed in just a few minutes as opposed to the much longer time it takes to swap out traditional lead-acid batteries.  The dangers associated with these older type batteries are eliminated when you use hydrogen fuel cells, since their only emission is water.  No more fear of contaminating your work area and even the need to have a special battery changing room is eliminated.  Because of the speed of installing new fuel cells can be accomplished so quickly, you'll have less down time. All of these factors will help you operate more cost effectively and you'll be doing your part in creating a cleaner environment.
Tags:
California Air Resources Board
,
CARB
,
epa
,
Fork Lift
,
forklift technology
,
hyundai forklift
,
hyundai forklifts
,
hyundaiforkliftsocal.com
,
Los Angeles
,
material handling
,
orange county
,
OSHA
,
technology