Having a long term preventative maintenance program in place for your forklifts is essential.  However, this does not mean that you can ignore your lift trucks until the service repairman shows up the next time.  On a daily basis, all forklifts must be visually inspected for any problems and physically checked as well.  It's an OSHA requirement that all forklifts be inspected every day that they are to be used and that a check list and an accurate record be kept of those inspections.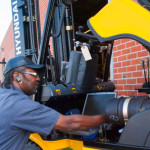 Here are 5 easy steps to better running forklifts.  You can do them yourself to insure that those daily inspections go well.
All moving parts should be well lubricated to prevent wear due to friction.  Metal-on-metal is not a good thing.  Keep your forklifts well greased.
Prior to each day's operation, fluid levels must be checked.  This includes the transmission, the brakes, the coolant, and the motor oil.
Whether your forklift is electric, propane, diesel, or gasoline, make sure your battery is fully charged or your fuel tank is full.
Your forklift's instrument panel and its gauges must be checked to assure that they are in working order and that they do indicate a problem should a problem be present.
An inspection of your forklift's tires is important to guarantee that its ride is smooth and that it's not in danger of loosing its load due to an uneven trip.
If you perform these 5 easy steps and follow OSHA's guidelines for daily forklift inspections, the next time the service repairman shows up chances are his job will be much easier.
A long term preventative maintenance program especially tailored to your needs can be set up with us at Hyundai Forklift of Southern California.  We service all of Los Angeles, Orange, and Riverside Counties.  But remember, again, if you follow those 5 easy steps and OSHA's requirements your forklifts will run smoother and last longer.
Tags:
diesel
,
diesel engine forklift
,
Fork Lift
,
Forklift Maintenance
,
forklift safety
,
forklift service
,
forklifts
,
hyundai forklift
,
hyundai forklifts
,
hyundaiforkliftsocal.com
,
Lift Truck
,
Los Angeles
,
orange county
,
OSHA
,
propane forklifts